15 Flawless Fitness Rooms
January 8, 2016
"We shape our buildings; thereafter they shape us." Sometimes literally.
In the tug-of-war between form and function, it is overwhelmingly the case that gym design exists in service of the latter. This makes sense as a gym is, when stripped of amenities like saunas and steam rooms, a room for doing. It exists in opposition to leisure, and it is no coincidence that the pulleys, ramps, benches and bars are referred to as "equipment". There is little we can do to make your exercise regime less laborious and more pleasurable — but we can help out with your surroundings. To help you get inspired (and maybe even jumpstart a New Year's resolution),we assembled a gallery of 15 of the world's best-looking gyms, ranging from a converted downtown Manhattan factory to a Space Age Eastern Bloc architectural gem. Scroll down to see more. After all, form is paramount when working out.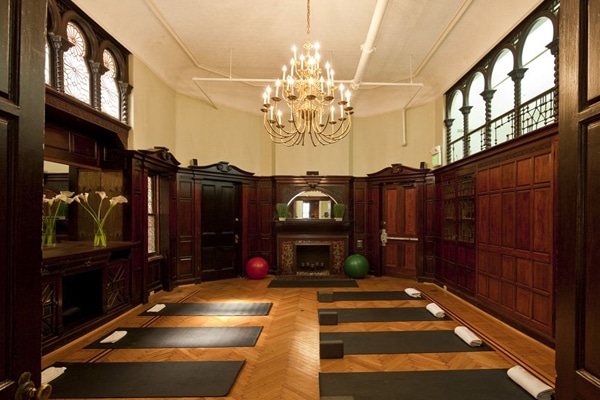 In Baltimore, Maryland, MV Fitness is housed in a restored 1920s brick mansion. Members can practice yoga, pilates, spinning and more among the building's beautifully preserved period millwork, flooring, light fixtures and plasterwork.
---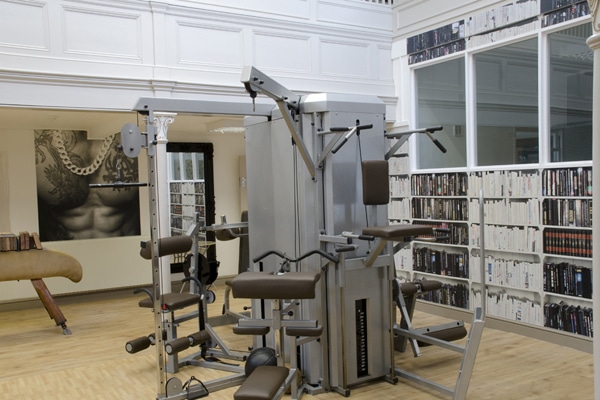 The Library Gym, located in the Notting Hill neighborhood of London, deliberately eschews utilitarian gym decor. "The whole design was a space where you actually want to be and you feel special being in. While the whole core philosophy is to get results, we genuinely want to make people comfortable and feel like they are in their own home," says owner Zana Morris.
---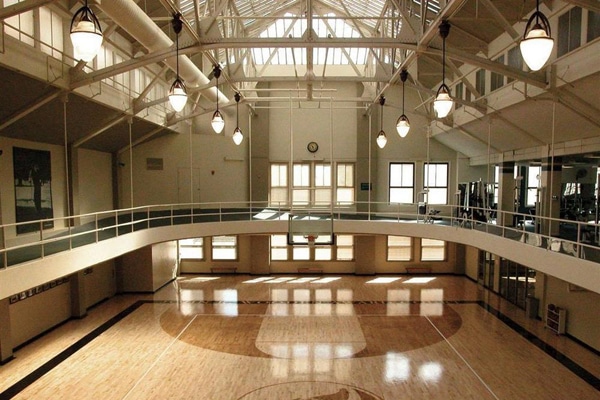 "Health, Recreation, Grace and Vigor" is the motto of the Los Angeles Athletic Club, founded in 1880. Since 1912, the club has operated from a grand, 12-story Beaux Arts building in the city's Downtown neighborhood. A comprehensive renovation of the space by SRK Architects is expected to open in January 2016.
Photo via LAAC.
---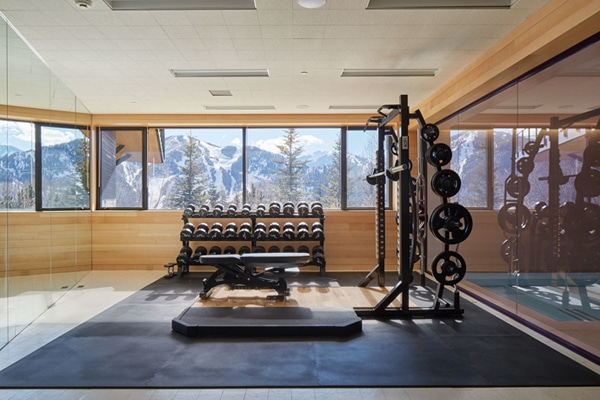 The architect Peter Marino is known for his soaring buildings and fitted, all-leather ensembles. So it's little surprise that the gym in Marino's self-designed Rocky Mountain retreat exhibits the brawny, bold style for which the architect is celebrated.
---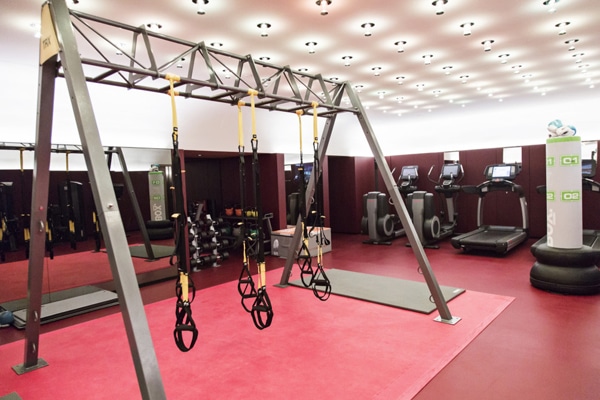 The Akasha Holistic Wellbeing Centre at London's Hotel Café Royal is comprised of four distinctive spaces, each corresponding to a specific natural "element": earth, water, fire or air. Designed by David Chipperfield Architects, the gym is inspired by fire, thus, the ceiling lights color adjust in concert with various workout routines to compliment the red hues of the room.
---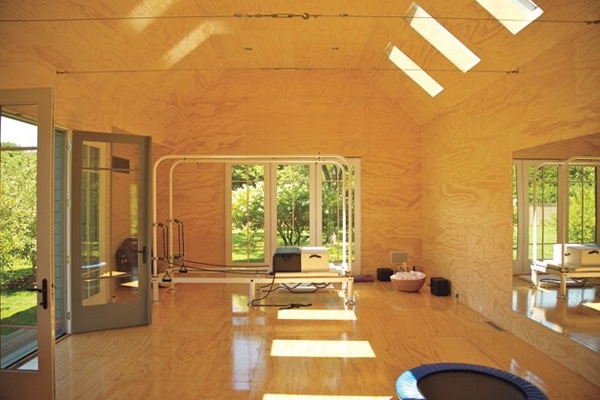 In Amagansett, New York, goop founder Gwyneth Paltrow's freestanding, plywood-clad yoga and pilates studio was inspired by a Japanese tea service room.
---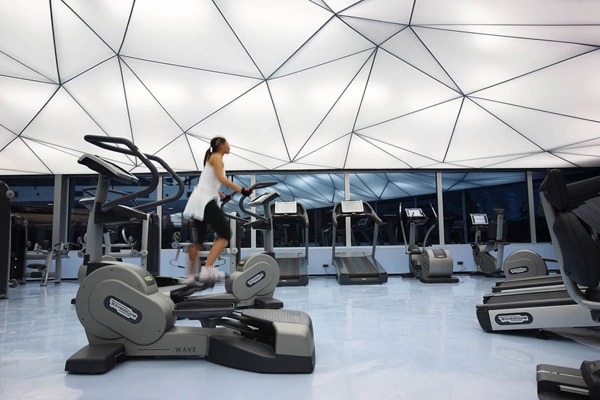 At the aptly named Sky Wellness fitness center in Belgrade, Serbia, reflective resin floor finishes and a semi-translucent ceiling illuminate the exposed sleek forms of training equipment in an open plan arrangement.
---
When he's not on the field with the New England Patriots, football star Tom Brady stays in shape at his custom home gym in Brentwood, California. The lavish facilities — replete with a set of monkey bars — were designed by architect Richard Landry and fitness firm Out-Fit.
---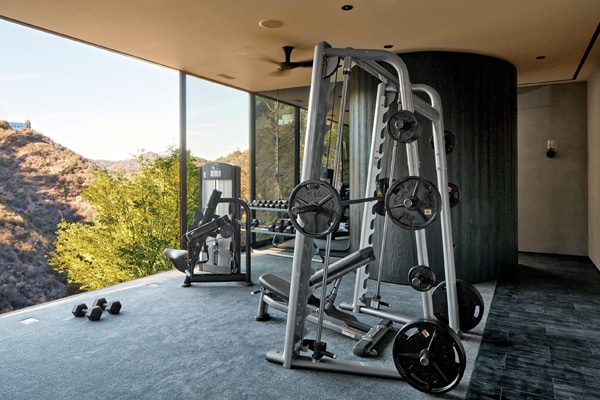 No special effects are required in director Michael Bay's home — architects Chad Oppenheim and Rios Clementi Hale Studios created a dramatic, cantilevered three-story home for the Transformers auteur that juts sharply from a steeply sloped canyon wall. Interior designer Lynda Murray created a minimalist gym that lets the scenery shine.
---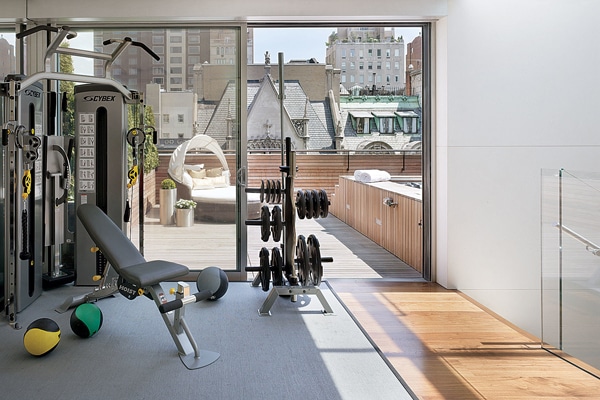 The white limestone French-neoclassical façade of television personality Donny Deutsch's New York City townhouse dates to 1915 — but architect Frederic Schwartz and interior designers Tony Ingrao and Randy Kemper completed a thoroughly modern, "white cube" renovation a century later. The six-story mansion has an airy gym on its top floor, which Matt Lauer deemed "the coolest in New York".
---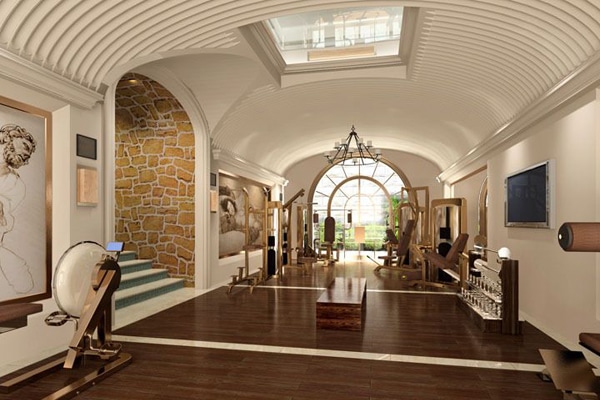 Harrigan Fitness designs bespoke "workout environments" for their clients. In this Beverly Park, California home, the firm made use of a dramatic, arched window to create a light-filled, neutral-colored fitness room.
---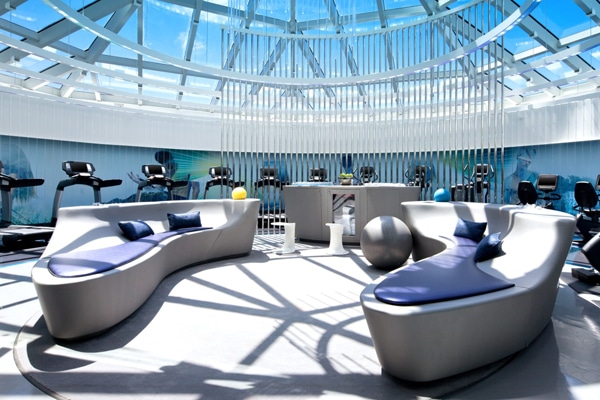 A dramatic caged ceiling, color-changing lighting and curvilinear banquettes deliver on the "club" part of fitness club at the FIT Gym in the W Hotel in San Francisco, California.
---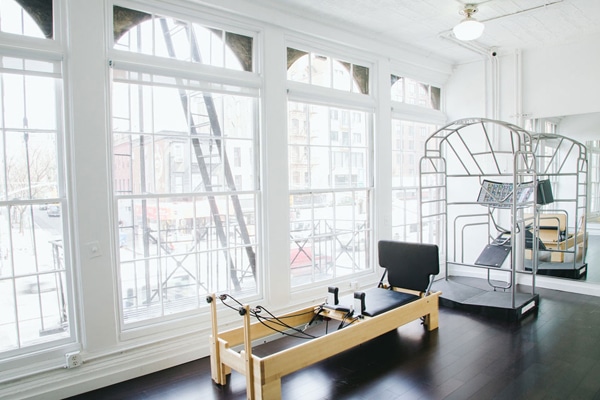 On the Bowery in New York City, upscale gym ModelFit — a favorite of Victoria's Secret runway denizens — is housed in a former factory space built circa 1900 with coveted elements of loft architecture, including industrial windows, an open floor plan and high ceilings. The space also has a more modern pedigree: until recently, it served as photographer Terry Richardson's studio.
---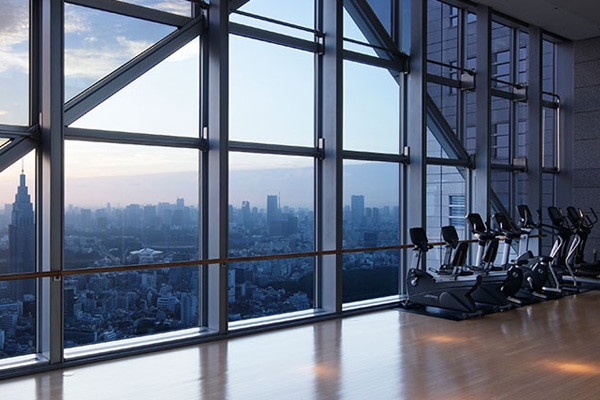 At the Park Hyatt Tokyo — the second tallest building in the city's Shinjuku neighborhood — a fitness center designed by renowned Japanese architect Kenzo Tange offers expansive views of the Japanese capital and Mount Fuji, in the distance.
---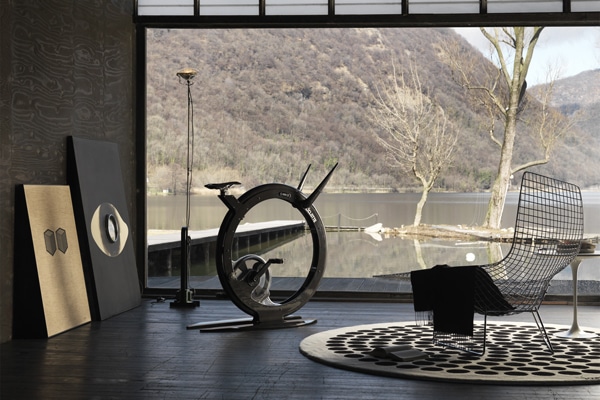 In the above waterfront gym, an icon of modernist design — Harry Bertoia's steel rod chair — sits opposite a Ciclotte. This state-of-the-art, carbon fiber exercise bike is one part design object, one part functioning equipment piece.
Source: http://www.1stdibs.com/blogs/the-study/15-fitness-rooms/